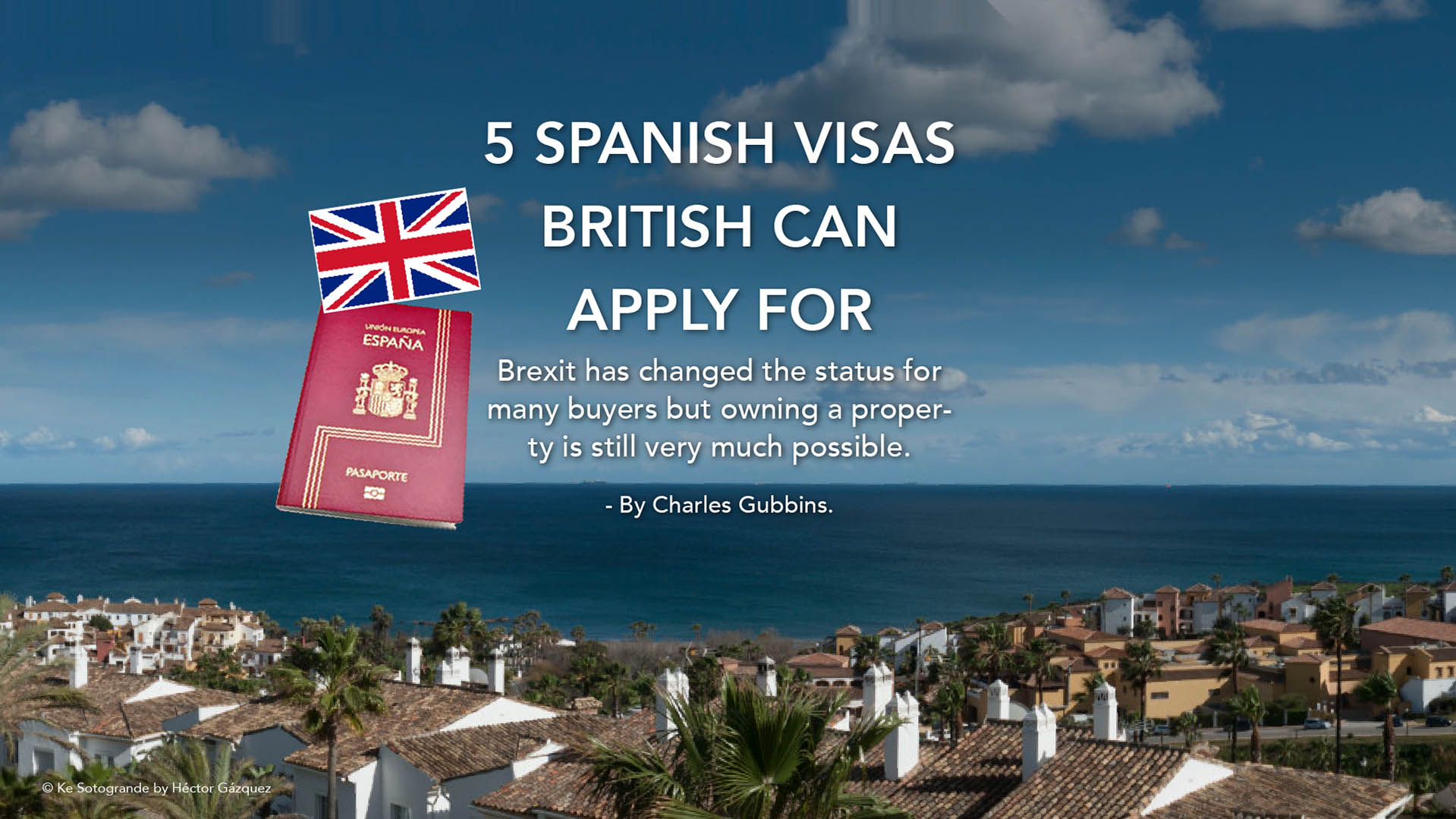 5 Five Spanish Visas British can apply for
Sotogrande and British Nationals residency status: Since the beginning of 2021 we have seen a definite increase in inquiries from non-British applicants. Nevertheless, British applicants continue to be attracted to all the benefits of owning a property in Spain. Brexit has changed the status for many buyers but owning a property is still very much possible. Additionally, Sotogrande is located near the Gibraltarian airport, which will always be an additional incentive for British buyers, simply because it's easier to travel for a long weekend from London to Sotogrande, than from Berlin to Malaga, and from there to Sotogrande.
As a person from GB legally resident in Spain before 1 January 2021, you can stay. You must ensure you are correctly registered as a resident. Children must also be registered with their own residency document.
If you registered as a resident before 6 July 2020, you will have a green A4 certificate or credit card-sized piece of paper from Extranjeria or the police. This is still a valid document and proves your rights under the Withdrawal Agreement. You can change your card for the new TIE card, a biometric residence card called a Tarjeta de Identidad de Extranjero (TIE). This card will prove your rights under the Withdrawal Agreement.
The big change of course for Brits, is staying longer than 90 days in Spain, or in any other EU country, you will require a Visa of some sort.
There are different types of visas which can be applied for:
1) Student Visa
This visa is necessary for Students who are planning to stay longer than 3 months in the country. Conditional for this type of visa is the proof of a study center confirming the person has signed up for a certain study course.
---
2) Work Visa
When a British national received a job offer from a Spanish company whether as employee or self-employed, he can apply for this type of visa. However, there are more types of visas: You can apply for an Entrepreneurial Visa if you are starting your own company in Spain. Should you have been offered a salary that exceeds 40,000 € per year you may apply for a High Qualification Visa. Best advise here is to consult with a solicitor.
---
3) Non-Lucrative Visa
For those wishing to retire in Spain without generating income, a Non-Lucrative Visa is the right one to apply for. You may read more about the non-lucrative visa here.
---
4) Intracorporate-transfer Visa
Should a British company send an employer to work in Spain for another related company, the British company is the one to apply for an Intercorporate-transfer Visa for their employee.
These visas can be renewed, when the applicants can prove that their circumstances remain the same, and they have sufficient funds and health coverage.
5) Golden Visa or Investor Visa
The Golden Visa is the most known visa on how to become resident in Spain as a non-EU citizen. To obtain this type of visa the applicant must invest a minimum of € 500,000 into a property. With this visa the applicants can stay for two years (if applied in Spain) with freedom of entry and exit. Then it can be renewed for another 5 years. Should the property be sold, the applicants will lose their residency. It is not necessary to stay in Spain, the applicants can travel freely and only use the property as their holiday home. It is allowed for the Golden Visa resident to work in Spain.
After five consecutive years as resident in Spain, it is possible to apply for a permanent residency, and after ten years it's possible to obtain Spanish nationality.
It is advisable to consult with a lawyer for best legal advice to choose the best possible residency option.
Please contact me for further information. Thank you, Charles Gubbins. 
Email: charles.gubbins@noll-sotogrande.com / Mobile +34 607 911 661
Disclaimer: Please note the material contained in this blog is for informational purposes only and does not constitute or imply a substitute for professional financial, legal or taxation advice. This information is general in nature and has not taken into consideration your specific personal circumstances. It is strongly recommended you get professional advice from regulated and/or registered qualified professions: financial advisors, accountants, lawyers.
by Marketing Dpt. - Noll Sotogrande | February 2022