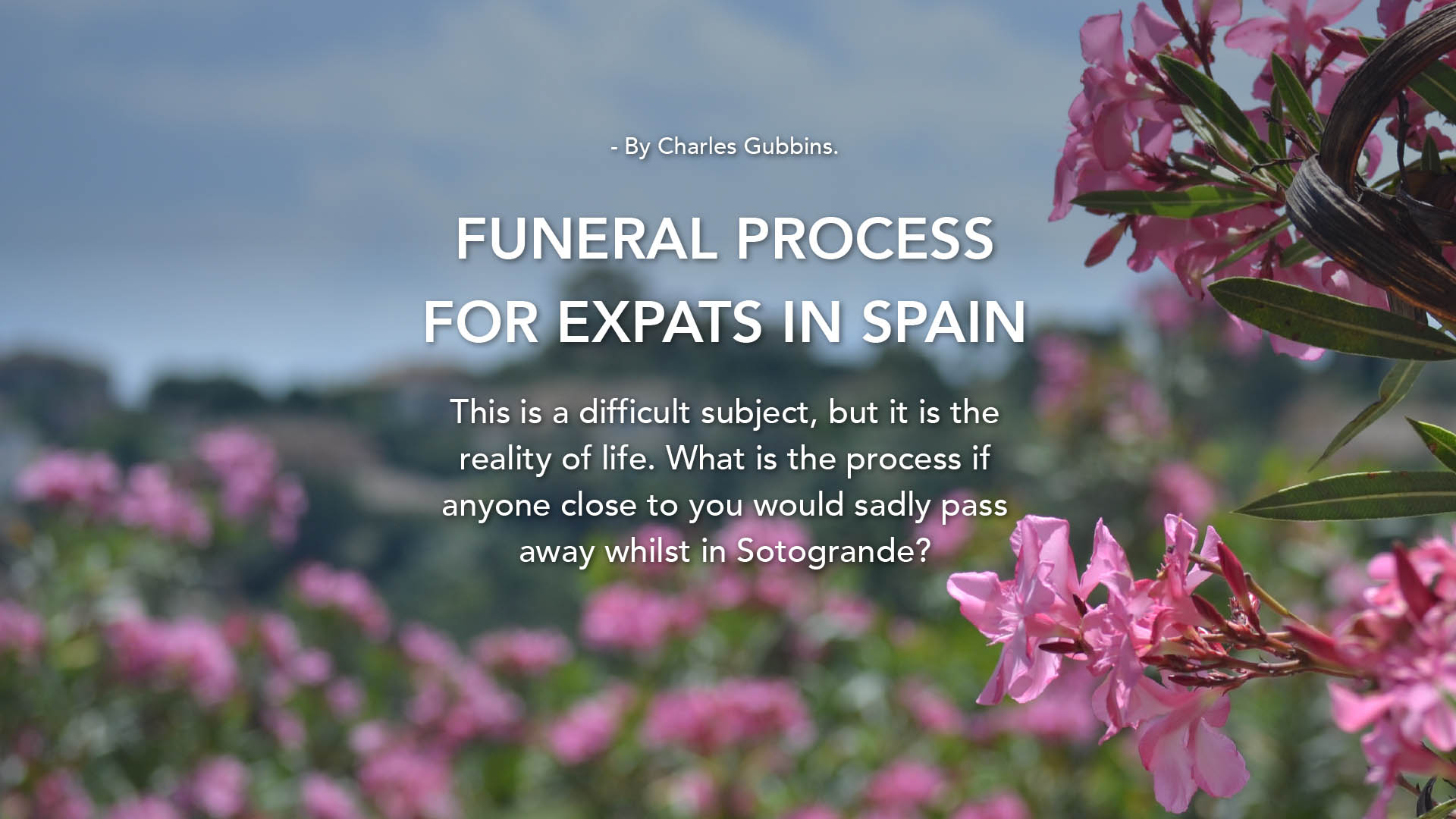 Funeral Process in Spain for Expats
There is nothing more certain in life than death and taxes. I have written about taxes on several occasions, but this piece is about the other certainty… passing.
Speaking about death is never an easy subject, but especially if you are living away from your country of origin. It is important that you are prepared and well informed about the process should someone close die whilst in Spain. For example, it is VERY important to know that the speed of the process may differ to what be habitual in your home country. In Spain, a body should be buried or cremated within 24 to 48 hours of death. This situation differs to many countries particularly those in northern Europe. Family members must make very quick decisions…. for the funeral or cremation arrangements.
So, what is the process if anyone close to you would sadly pass away whilst in Sotogrande? Here is a list:
You should call the local police (Policía Municipal – Tel: 092)
Contact a doctor (if the police don't) to issue a temporary certificate.
Police or the doctor will contact a Local Funeral Director (Tanatorio) to sign the release form and remove the body.
All deaths should be registered within 24 hours at the Civil Registry (Registro Civil) in the local Town Hall (Ayuntamiento).
The registry will issue the official death certificate. You will need copies of this document, so it's advised to get as many copies as you are allowed.
It is important not to rush to sign any documents until you know what you are signing.
I would strongly recommend that all expats plan and have a funeral plan in hand.
If you have taken out a funeral plan, at least some of the stress and pressure of having to organize everything can be avoided. You can find several reliable partners for this process and have prepaid insurance.
Without a funeral plan someone (next of kin) will have to make decisions on what to do. Will the body be repatriated, cremated, or buried? All very stressful.
It is also a good idea to have a Last Will and Testament. If you have a Spanish will, it will help enormously with any Spanish assets you may have. These assets can be property, any assets held in bank accounts, life insurance policies, company shares, and any material goods or possessions such as a car or jewelry.
This is a difficult subject, but it is the reality of life. It is advisable to have a funeral plan and a last will and testament if you live in Spain permanently.
Please contact me if you need further information, thank you, Charles Gubbins.
📲+34 607 911 661 – ✉ charles.gubbins@noll-sotogrande.com
by Marketing Dpt. - Noll Sotogrande | March 2022