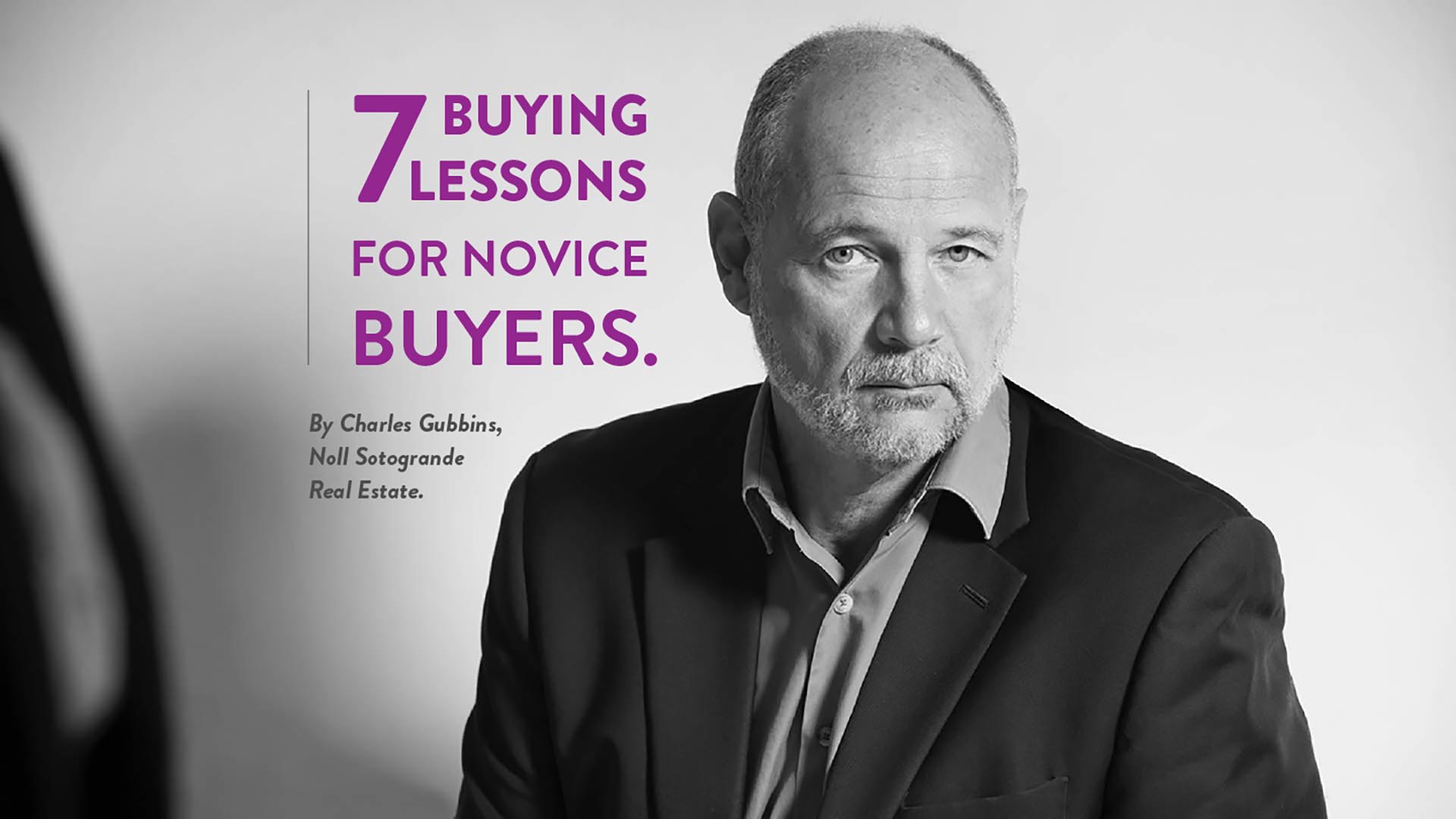 7 Buying Lessons for Novice Buyers in Sotogrande
Buying a house in Sotogrande, be it one you live in full time or holiday home, has been a dream for many people.

 

Here are some tips I have collated from experience after having dealt with many buyers over the years.
---
1. Don't be in a rush
Your ideal Sotogrande property will be difficult to find, and even if you build your dream house, by the time it is finished you will have regretted some element and wished you had done it differently. The lesson here is to take your time. Don't get carried away and make quick decisions. It may take multiple visits before you can see the benefits of a property. Visit different areas such as the Kings and Queens all the way up to La Reserva de Sotogrande. Make sure you choose the right location for you and your family.
---
2. Shop around for a lender. There is always a cheaper option.
Over a long period of time, a small difference in lending conditions can make a huge difference. Sit in front of as many bank managers as possible and give them your financial history, don't be afraid to negotiate. As the saying goes, if you do not ask, you do not get! In and around Sotogrande you will find many Spanish as well as international banks. If you do get pre-approval on a certain amount, only use the full amount if you are comfortable. Don't get wooed by a more expensive property simply because you have more funding. Also, there are specialist mortgage brokers such as Fluent Finance Abroad who buy in bulk and will be able to beat any deal you could possibly make. They may be worth a visit if only to get a comparison.
---
3. Make sure you calculate additional costs such as furniture. 
Your dream house in Sotogrande will only look like your dream house if you can afford to furnish the property to a certain style and standard. Furniture, curtains, carpets, outdoor furniture, etc. all add up very quickly. Using an interior designer who enjoys wholesale prices can make a big difference. With today's technologies, you will also get it right the first time as digitally generated mock-ups of your rooms can be made up easily.
---
4. Check the property is fit for purpose before committing.
A survey can cost money, but from experience, I can say it is a very good investment. Best discover any problems before you commit. An old house may, for example, have water pipe problems, or the boiler may be on its last legs, the basement may have damp issues, or even worse the house could have structural problems. Understanding these issues will provide you with information to best negotiate the selling price, and give you comfort that you are buying a property fit for purpose.
---
5. Pick an agent you can trust
Responsiveness, communication, expertise in the area you are buying and reputation, would be criteria you should look for in your real estate agent. Make sure you get references before engaging an agent. Taking that extra time may help you save money time and effort.
---
6. Ask questions
Another important buying lesson for Sotogrande novice buyers is to ask questions! Asking the right questions will help you get a better understanding of the buying process and shows that you're interested. Understanding how your agent works and how he has performed in the recent past will give you a very good idea of what to expect. Ask questions…… from the agent's experience working with buyers, to how quickly they can arrange visits to properties that fit your criteria. There are many questions you can ask your agent, and they should be able to provide logical sensible answers.
---
7. Prepare to be a Sotogrande homeowner
Finally, responsibilities of homeownership are different from that of a let property. You will figure this out as time passes, but it is better to prepare for homeownership in advance. Maintenance costs may come as a surprise unlike your mortgage or community charges which have been pre-calculated. To keep a property up to standard constant investment is required. From obvious costs such as garden and pool maintenance to literally hidden damages that can cause pipes to clog up such as calc if the water in your area is hard.
If you are looking for assistance buying a property in Sotogrande, please contact us, we would be happy to help.
Charles +34 607 911 661
Stephanie +34 607 465 383
Email info@noll-sotogrande.com
by Marketing Dpt. - Noll Sotogrande | September 2021