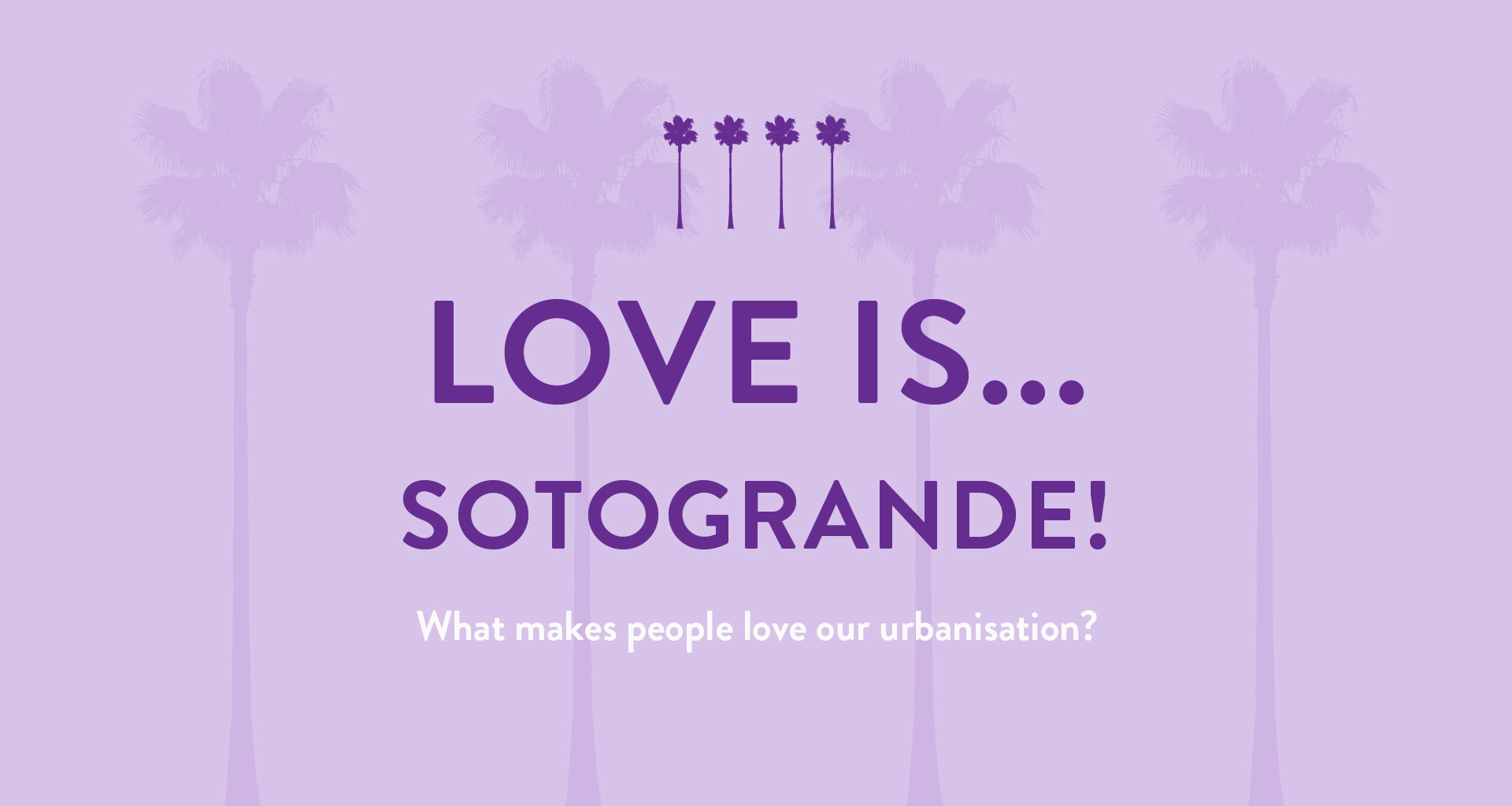 Love is… Sotogrande! What makes people love our urbanisation?
Many clients who show interest in investing in a Sotogrande property have been asking questions about the life in Sotogrande. I thought the best way to comment on this subject is to ask the Sotogrande home owners what they think of Sotogrande and how they relate "Love" with Sotogrande. The response was overwhelming! 
---
I am very happy to share some of the many, many comments I received

:
? I am so happy to live in Sotogrande, such a lovely spot by the sea with sunny days, a peaceful, healthy atmosphere and interesting friends, hard to beat! So lucky! I give thanks every day! T.D.
? Sotogrande is my Hometown. ??️‍♀️? A.L.
? Ahhh .. Sotogrande, paradise on earth where life is enjoyed to the full in any way you choose and at any pace you wish! Truly there is no place like it for me..! X.R.
? We love Sotogrande because it is our heaven, it is our peace, it's is our escape from the world. U.K.
? I love Sotogrande because every time I travel and come back home it makes me feel good and puts a smile on my face. M.C.S.
? I love Sotogrande because is small enough to feel like home and big enough to enjoy your own space. P.G.
? We have chosen Sotogrande as our home and somewhere to bring up our children in a safe, friendly and fun place to be. We love the many choices of beaches, the fabulous beach bars and the great variety of restaurants and tapas bars. We have some of the best golf courses in the world in a close proximity and my passion is to play golf with friends and family, whenever I get the chance. With Polo throughout the year and the Gold Cup in August, Sotogrande provides some fun and relaxing activities and I would recommend it to anyone as a place to live or to go on holiday. My 6 year old daughter says she loves Sotogrande because there is a water park near by. M.B.
? Sotogrande is a sanctuary for us. It is a place we can go to escape, to find balance and reconnect with ourselves. We come here when we need to switch off, pause and take a moment for ourselves. Sotogrande has all that we need to kick off our shoes, turn off our laptops and relax. It has a special heart all of its own and that's what we fell in love with. S. & P.P.
? Sotogrande is a bliss for peaceful family existence. R.F.
? Sotogrande: come, know it, and love it! M.O.
? Love is… the multicultural families that make Sotogrande unique. MdV
? I love Sotogrande for Noll & Partners! (Noll: Thank you very much! ?) I love Sotogrande because it is has everything that one could want in terms of nice bars, restaurants, maritime activities, polo and some of the world's best golf courses but has never succumbed to the temptation of being turned into a Banús style night area. Above all, I love Sotogrande for being family orientated. Where else on the coast could you allow teenagers to go out with their friends in the evening without being terrified of what they are getting up to? G.W.  
? We like Sotogrande because it's the best organized urbanisation in an attractive, beautiful surrounding, with the best climate in Europe.
? We love the sky in Sotogrande and hearing the sea at night. P. & D. A.
? Sotogrande is our place where we feel like home in winter. We love the whole area, golf in La Reserva, the restaurants and the easy way of living. H. & U. S.
? We have been living permanently in Sotogrande for 18 years. Previously 21 years in South America, always guarded behind walls. We chose Sotogrande because we feel safe and secure here even without walls. The weather in Europe is at its best here. (We studied the world weather map for two years before we decided on southern Spain / Sotogrande!). Since the beginning of our life in Sotogrande we met open-minded and interesting people. At our dining table, guests from around 16 different nations ate, laughed, discussed, and cried with us. Most have looked beyond the so-called "bigger picture" – and that connects. Our wish to live in peace and quiet was more than fulfilled with the choice of Sotogrande: it was the best decision of our life. P. & M. K.
? Best weather in Europe, located by the sea, picturesque landscape, security and peace, well-kept atmosphere, numerous outdoor sports activities all year round. Interesting people, almost all of whom have lived in different countries, and who are open minded and can see the bigger picture. And the great luck of being friends with Stephanie and Charly! E.M. (Noll: Thank you very much! ?)
? Golf is certainly one of the big attractions for residents and we are enjoying the quality of the golf courses in and around Sotogrande year round. C.S.
? We came here to Sotogrande over 20 years ago, when it used to be a quiet and secluded resort. Today we have infrastructure, with motorways connecting us in a bit over 1 hours to Malaga airport, to Gibraltar and to Seville and Jerez. We don't need to go shopping grocery anymore in Estepona or Algeciras, we have literally everything at our doorstep. We loved Sotogrande 20 years ago, and love it even more now. R.T.
? On the edge of Europe, almost in Africa lies a little paradise : Sotogrande, a cross road of cultures and people.  Exceptional sailing, wonderful golf and great food and incredible people!  E.M.
?

And you… Why do you love Sotogrande? Look forward to learn about your "Love" for Sotogrande.

Stephanie Noll.
by Marketing Dpt. - Noll Sotogrande | May 2020