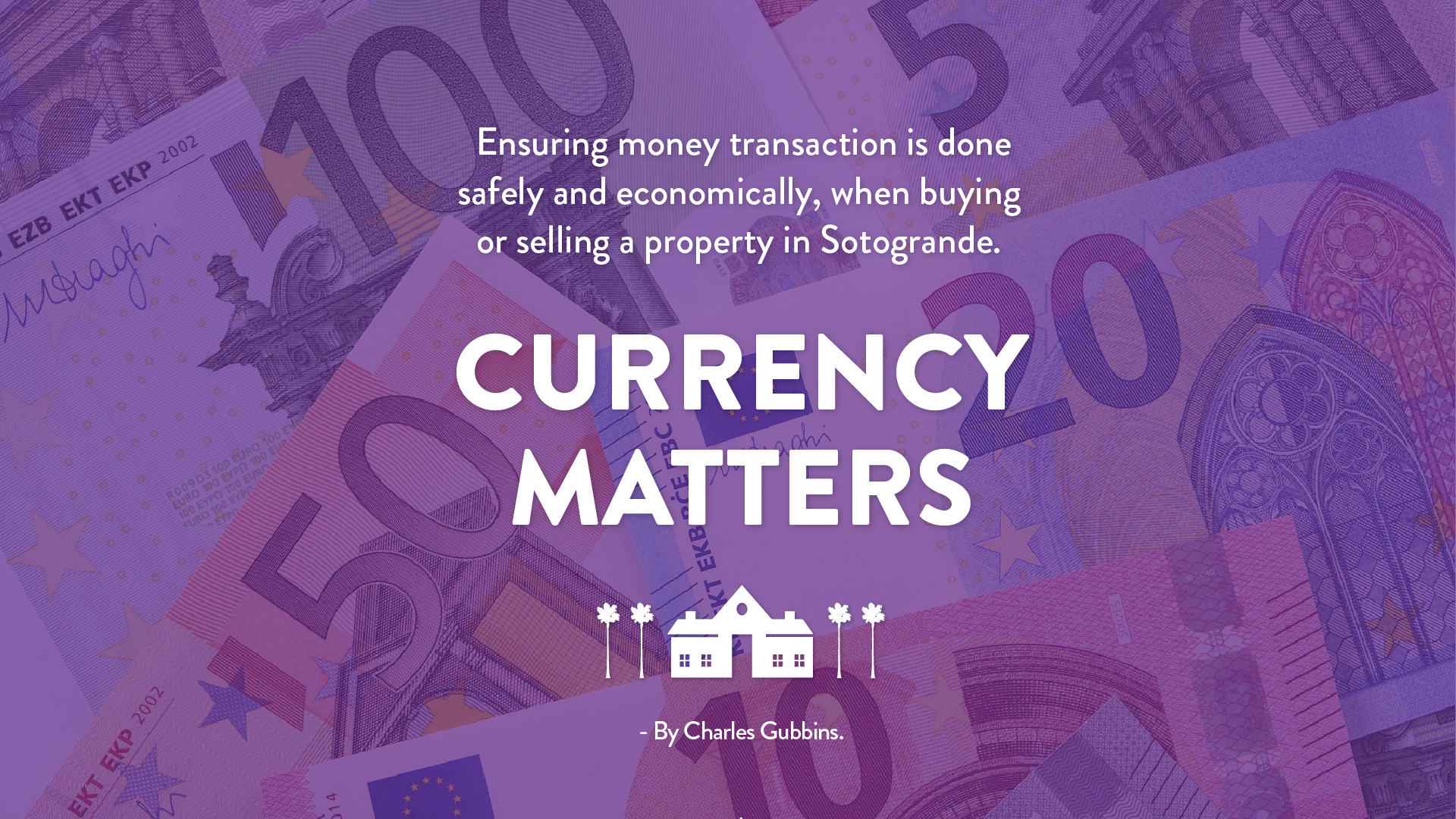 Currency Matters: Ensuring money transaction is done safely and economically
Currency Matters (£- $- €) Many clients we have had over the past years have had the need to buy or sell euros. A buyer from the USA, Switzerland, Sweden, Denmark, the UK and many other countries will need to change their national currency into euros when buying. Similarly, vendors from these countries and others may wish to change euros back into their national currency once they sell their property in Sotogrande. Most commonly currency can be changed by banks or companies dedicated to the business of forex (foreign exchange).
Clients mostly have three criteria when they choose who will assist them with the transaction. Security, competitiveness and personal service. Transacting large amounts of money is something we do seldom, and ensuring it is done safely and economically is very important. Having someone hold your hand and with whom you feel safe is a big plus.
Just before we went into lockdown, we managed to complete on a sale here in Sotogrande. It was gratifying to receive a thank you note from the clients.
---
Hello Charlie & Fernando
Somewhat belated I know, but it cannot pass without saying thank you to you both.
The transfer was seamless and problem free. A special thank you to Fernando for his attention to detail, and will always remember our high speed journey from notary to bank – but we got there !
Thanks again to you both.
Rachel & Roger *********.
---
I thought to share this note as Fernando Lago the Regional Manager for the Costa del Sol for Key Currency was very helpful in getting the sale across the line. Fernando is bilingual, born in London with Spanish parents. He has been coming to the Costa del Sol since he was 4 years of age and has been his home for the past 16 years. He has 11 years experience in the real estate market and in since 2015 has been involved with the currency market.
Today Fernando is with Key Currency an independent currency specialist, which is regulated by the Financial Conduct Authority (FCA) in the UK. As a small family owned company based in Truro, Cornwall, Key Currency has a focus on customer service and they pride themselves in a "hand holding" service that property buyers (and sellers) require. This personal, hand holding service is experienced by many buyers and sellers which are happy to refer and leave great comments and reviews on Trust pilot.
Should anyone wish to contact Fernando he can be reached on +34 679 096 894 or  fernandolago@keycurrency.co.uk. He helped Rachel and Roger and I am sure he could help others in need of currency exchange advise and service.■
---
by Marketing Dpt. - Noll Sotogrande | June 2020