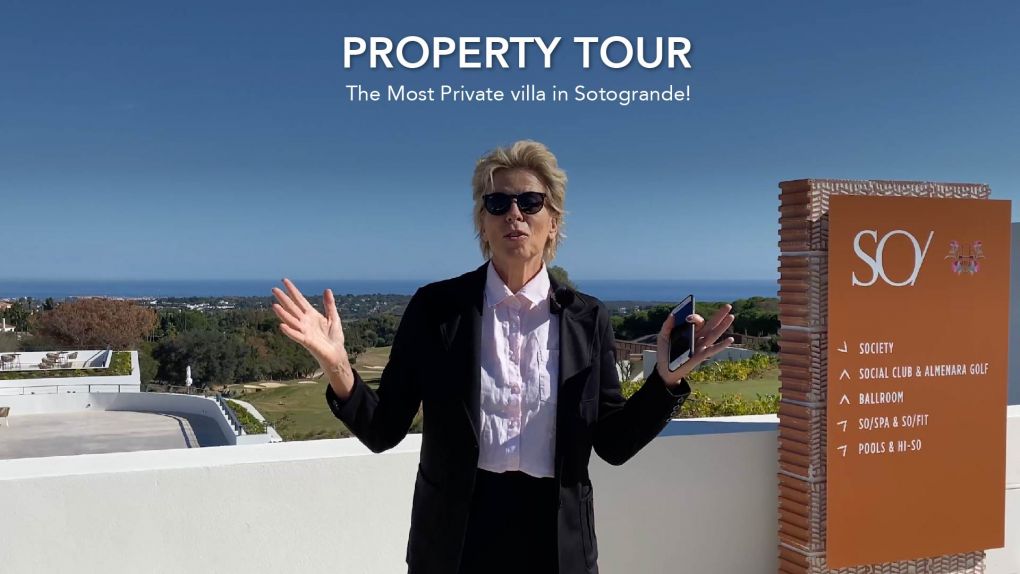 The Most Private villa in Sotogrande, watch the Property Tour!
"On a sunny November, almost too warm to wear a jacket," Stephanie Noll introduces us to this beautiful private villa.
This property is for sale for 2.150.000 € very close to the So / Sotogrande Hotel, where you can enjoy your lovely dinner and literally walk back to your lovely home!
We're not just talking about "location, location, location", but also… "private, private, private!" Check out the video. Or call Stephanie to arrange a visit to this villa in Sotogrande! Ref.No. NP1589
Highlights of this Sotogrande home
Highlights of this Sotogrande house
Let's start with the basics. The property is located on a plot of 4,464 m² with a large private garden. And 760 m² of built-up area, all completely renovated! New bathrooms, new underfloor heating, new flooring, plus a new kitchen … And a staff quarter that could also be used as an additional guest room. It is completely a family home!
The new kitchen inspires to cook and at the same time to enjoy the beautiful view. You can also have breakfast outside in winter … It's the end of November and it's still very warm! One of the great things about living in Spain is that you can enjoy your terrace all year round because who wouldn't prefer to have breakfast outside?
The bright DINING & LIVING ROOM area is spacious, open … You can design the space as you wish. And of course, you have a view of the private garden!
The covered TERRACE, which is accessible from the living area, leads to the beautiful 4,464 m² garden. Three bedrooms on the ground floor have access to the same private garden … Everything you hear is chirping birds!
Upstairs there are two bedrooms, each with its own bathroom and sea views. In addition, each bedroom has a private terrace with a view of the sunny garden and a private finca that will never be built on. The villa benefits from a clear view and that "for life"!
The MASTER SUITE has a dressing room, a bathroom, and the bedroom is huge! A fantastic 30 square meter room! But it also has its own private terrace from which you can enjoy the scent of the flowers, the trees … the view and the privacy.
It's like living in the country, and yet you are in the protected Sotogrande, with a complete infrastructure. This is unique!
In addition, there is enough PARKING SPACE for at least 6 cars, as well as a garage for two cars … All included in the price! ?.
So what makes this villa in Sotogrande unique?
It's like living in the country, and yet you are in the protected Sotogrande, with a complete infrastructure. This is unique!
And it's ready to move in! Just bring your luggage and enjoy your Andalusian home!
Would you like to find out more about this property? Call Stephanie from Noll Sotogrande. Ref. NP1589
Stephanie Noll
✉ stephanie@noll-sotogrande.com
?+34 607 465 383
???  ???? ?????????? ???? ??????
by Marketing Dpt. - Noll Sotogrande | January 2022